Finding The Gong On The Way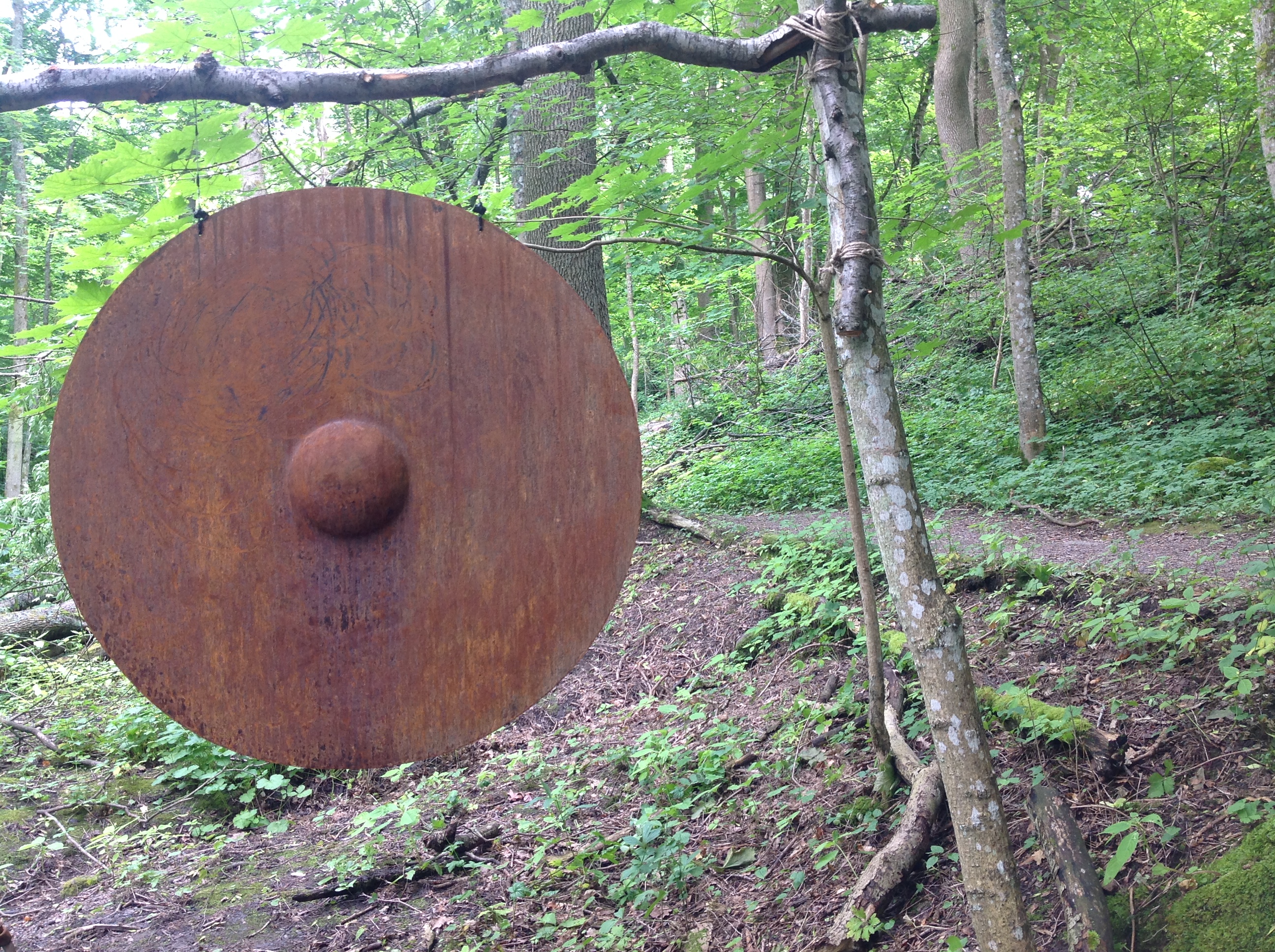 The world of gongs were introduced to me at the magic date of 2011.11.11.
In summer 2014, I was in Gothenburg attending a workshop of Bioenergetic Analysis (Alexander Lowen) together with my German teacher Heiner Steckel. I stayed at a small hotel in the middle of the city, near a forrest.
Bioenergetic Analysis has been a part of my life since 2005. I now embrace this as a part of my life and it has become a continuous learning process.
For me the Way of the Gong implies the energetic process in life to come alive with our authentic being and expressions. At this point I was already introduced with Singing bowls, which was a real turning point for me and my way of understanding of the importance and expression of sound.
This summer had already been quite special for me. I felt strongly connected with nature in a deeper and to me surprising way. I felt I was changing and that beatiful things would come into my life. I had always been an open and curious child surronded by much motherly love, and I believe this has had influence in how I percive the world. I feel strongly about the feminine aspect to be more expressed, and I welcome the strength of women in all layers of society.
At the last day of the workshop I wanted to go jogging. As I opened the door that morning I was greeted by dew fresh air. Then the most unexpected thing happened: there right in front of me, there stood a beautiful big deer on the grass right next to my car. I was quite surprised. It steared at me, stood still for a moment, turned and disappeared into the woods. Fantastic, I thought, wild animals here in the middle of Gothenburg city?
Well, I started to jog, but something bothered me: my inner voice, my intuition told me to take another route. Little did I know, that this decission should change my life totally. Sometimes we wonder: do we make the right choices? Now I felt I was listening to a kind of dream state or deeper part of myself. My intuituion told me to run along with the fence where I had seen the deer. Suddenly I saw a magical big forest in front of me. It turned out to be balanced by a nature reserve behind botanical garden in Gothenburg.
After a while, suddenly I saw a glimt of the same deer again and I started to follow him. I ran after him, but lost him. Then I ran higher up on a hill to get an overview and then decided to run another rout back to the hotel. Suddenly I stopped: there the deer stood right in front of me and steared at me. Then he turned and walked slowly ahead of me. It seamed he wanted me to follow him. So I did. Then he disappeared again and was gone.
I followed the trail, and to my big surprise, I could not believe what I saw: there, hanging between two poles was a big rusty gong with a mallet beside it. I was overwelmed, and I urgently wanted to try it, so I started to play. I was stunnished. The sound the gong made was a fantastic magical sound I had never heard before. The resonance was unlike any other I had ever experienced, and the vibration hit something deep inside my soul. I felt I should follow my spirit and listen to what nature tells me, and then I knew: This was what I wanted to do. I decided there and then that I wanted to spread this magical sound of the gong out to the rest of the world. It hit my heart, my body and soul. I was home!
The transformation I experienced this summer was a total shift in perception of how I am able to see and sense the reality of things, and how I sense the whole world. I realised I was now given the gift of channeling information from things and people from "the other side". Suddenly I saw the connection with the gongs, the Bioenergetics, the Overtone Singing and my loving childhood. It all gave me an opening to view the world in a totally new way.
Link til artikkel Gongens vei Visjon Norge 3-2015
Good Vibrations to you! Tor Arne Håve (2016)
Let the gong choose you
The question of buying a gong or choosing the right gong for your raises many ideas or concerns. It might be a question about the budget? It what manner you would like to use it? Is it for a yoga studio ? Or for working with sound healing in single sessions. How large is the room? What type of gong should I go for. The questions are as many as there are people. Should I start with a smaller one or could I go for a larger one from the start. Is the best to start to play with a Symphonic type of gong ?

I do not say that there is a better or an absolute right answer to this, but what I recommend is to participate a gong class and get the feel out of it first.. This will give you the opportunity to really get the feel into the different gongs. And who know it also may result in a resonance between you and a gong.

Then you know the gong has chosen you !

You are always welcome to contact me to have a reflection on the matter of choosing a gong.

(Tor Arne Håve)


The gong family
The idea of "the gong family" is of course not a new idea. It stems from the idea of the importance of having a good network that supports good values. You can find this idea in most societies, religious groups, political parties, sports teams and more. My own way is yoga and Buddhism (Vajarana). And I guess the following the principles form the Buddhism can make us a better humans.
I like to refer to the four THE FOUR IMMEASURABLES, witch is love, compassion, joy and equanimity. To follow these principles give us a guide in life and our work. And I also hope it will benefit the people that I meet on my own way.
There are no obligations to become a member of a "gong family" just a free connection to other like-minded people. I will in collaboration with people close to me search for expansion of compassion, love and joy with the help of the gongs.
The gong family is a worldwide network with humans playing gongs and doing sound healing in many different countries. This network has developed and is developing by many others all over the world.
Tor Arne Håve (2016)
Gong Studios
There are more and more people that is enjoying "the way of the gong". There are different yoga studios, art studios, healing studios and sound therapists around in Norway and Turkey.
What we all have in common is that we all see the goodness the gong bring to people and how much joy it gives ourselves and the people receiving the gong. These studios are there for you to get the benefits from the meeting with gongs and the compassionate humans we collaborate with.
"It is not about competing against each other, it is about sharing joy and caring for each others".
You will find studios in these locations: Oslo , Bodø, Kapp, Dal, Ask, Røa and Istanbul.
And more will come soon.
A journey into the unknown
I first met the gong in the summer of 2011 on Angsbacka yoga festival. I could´t believe what I was experiencing. My whole body was taken over, I had a shoulder injury and it felt like all the vibrations went there to heal. I soon realized I had to give up all control and just let the gong play me. There and then I decided that I wanted to learn how to play gong. And I guess it was meant to be, cause that autumn a yoga colleague of mine had invited two swedish guys to come and give a gong-training.
So I called Tor Arne Håve, who I knew was into singing bowls and overtone singing and told him that he had to join me on this. Without knowing anything about gong he said yes :-) Since then I have played the gong together with Tor Arne Håve giving gong relaxations and gong baths at different happenings and locations and I have played the gong in my yoga classes.
I am so grateful to the gongs. Its like they teach me how to live; I just have to give up controlling everything, let go of fear and its like this great power in my back pushing me in the direction of my gift, leaving me no choice but to do what is my life purpose.
Anne Siri Langelandsvik